Genetic susceptibility to arsenic-induced skin lesions and health effects: a review
Genes and Environment
2015
37:23
Received: 17 July 2015
Accepted: 30 September 2015
Published: 1 November 2015
Abstract
Arsenic toxicity in humans manifests several outcomes in humans, which include arsenic-induced genomic instability, DNA damage, impaired DNA repair, carcinogenesis, dermatological lesions and other health related problems. Of the 137 million individuals affected, nearly 26 million individuals are in the state of West Bengal, India. Studies have identified dermatological lesions like keratosis, basal cell carcinoma, Bowen's diseases, squamous cell carcinoma, etc., as key indicators of aggressive arsenic toxicity in humans. Although a large number of individuals are exposed to arsenic but only about 15 to 20 % individuals showed arsenic induced skin lesions. This clearly indicates that genetic susceptibility plays an important role in arsenic susceptibility. Analyses of genetic susceptibility have been carried out to study the prevalence of single nucleotide polymorphisms (SNPs) in number of genes as they might be involved arsenic metabolism and detoxification. It has been observed that a number SNPs in these genes were significantly associated with arsenic induced skin lesions and other health effects. In the present review we try to coalesce the different observations and associations of SNPs with arsenic-induced toxicity, with special emphasis on the study population from West Bengal. We have adopted certain candidate gene approaches to evaluate the association of arsenic-induced toxic outcomes like skin lesions, conjunctival irritations, DNA damage, epimutagenesis, cancer, etc. This review shall be helpful in understanding the importance of genetic make-up of an individual towards evaluating the xenotoxic outcomes, like those in case of arsenic exposure.
Keywords
ArsenicToxicitySingle nucleotide polymorphismGenetic susceptibilityEpimutagenesisWest Bengal
Introduction
A global concern, a potent carcinogen and toxic upon chronic exposure, arsenic-induced toxicity in humans is multi-pronged; having a varied spectrum of patho-physiological outcomes. Nearly 137 million individuals are affected by arsenic in nearly 70 nations all over the world that includes India, Bangladesh, Taiwan, Japan, Chile and parts of China and USA [1, 2]. Apart from geogenic outcomes [3]; industrial and commercial activities have also lead to spread of arsenic like those of "the Toruku Mine incidence" and "the Nakajo-Machi incidence" in Japan in the early twentieth century [4]. Some of the major toxic outcomes of arsenic in humans include oxidative DNA damage, dermatological lesions in form of keratosis, peripheral neuropathy, gastro-intestinal inflammation and cancers of various types like skin, lungs, bladder, liver, etc. [5–9].
Several mechanisms of arsenic-induced toxicity have been proposed and researched all over the world. Of these, enhanced toxicity due to reactive oxygen species (ROS) have been evaluated by several studies which was associated with a plethora of toxic outcomes like arsenic-induced cytogenetic damage, inflammation and carcinogenesis [
10
–
12
]. This aggressively oxidizes several cellular components and has been well characterized upon arsenic exposure like oxidative DNA damage [
8
,
13
]. Among the most recent concepts of research, arsenic-induced epigenetic alterations have also been associated with several molecular outcomes of arsenic toxicity. Arsenic biotransformation and metabolism within the cells involves a cascade of enzymes that converts inorganic arsenic to it's methylated species, using S-Adenosyl Methionine (SAM) as a substrate. This depelete indigenous SAM pool within the cells leading to arsenic-induced global DNA hypomethylation, leading to carcinogenic outcomes by aberrant gene expressions within the cell [
14
]. It was reported that Myc. overexpression was associated upon arsenic-induced malignant transformation in nude mice [
15
]. MYC, has a strong association with hepatic and pulmonary cancer with relevant studies showing association with chronic arsenic exposure with liver cancer and lung cancers [
16
–
18
]. This may be mediated by arsenic-induced epigenetic alterations of Myc. expression. Also, Myc has the ability to recruit TIP60 (a histone acetyl transferase; HAT) to the chromatin [
19
]. HAT category of enzymes are important regulators of histone acetylation; responsible for "opening up" of the nucleosomes and increase the accessibility of the transcription factors. This facilitates the transcription, along with DNA hypomethylation. This "opening up" may also enhance accessibility of ROS; leading to an increased degree of oxidative DNA damage. A probable mechanism is elaborated in Fig.
1
.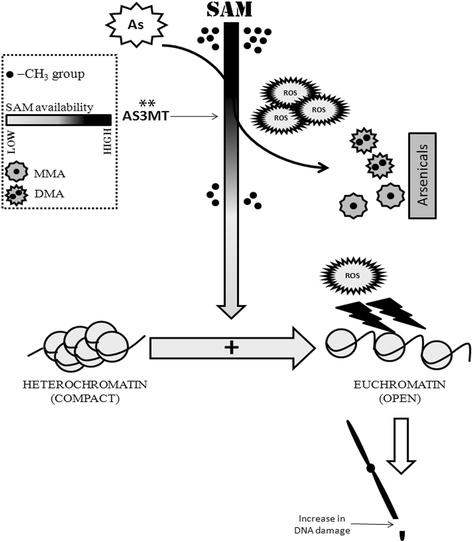 Genetic susceptibility has been one of main proponent of arsenic-induced toxicity. Several population surveys all over the world have associated single nucleotide polymorphism (SNP) with arsenic-induced carcinogenesis. Dermatological lesions in form of raindrop hypo-pigmentation, palmer and plantar keratosis, Bowen's disease as well as squamous cell carcinoma (SCC) and basal cell carcinoma (BCC) have been considered as hallmarks of arsenic-induced toxicity or arsenicosis [20–22]. Thus, several epidemiological studies have evaluated the association between the dermatological lesions and cancer upon chronic arsenic exposure all over the world. SNP analysis of 594 arsenic-induced dermatological cases found a significant association between arsenic metabolic pathway genes with risk of premalignant skin lesions [23]. Arsenic (III) methyltransferase (AS3MT) is one of the main mediators of arsenic biotransformation. SNP (Met287Thr) of AS3MT has been found to be associated significantly with arsenic-induced skin premalignant lesions [24]. This study was conducted in Mexico, where the participants were subjected to nearly 110 μg/L arsenic through drinking water. The present review is on similar SNP studies conducted in the state of West Bengal, India where nearly 26 million individuals are consuming arsenic through drinking, above the limit of 10 μg/L as prescribed by World Health Organization [25]. In the present review we shall elaborate on the association of genetic susceptibility in arsenic exposed population mainly from West Bengal with significant emphasis on dermatological lesions and cancers.
Candidate genes responsible for arsenic toxicity in humans
Polymorphism and arsenic-induced epigenetic susceptibility
Epimutagenesis is one of the modern terms, first coined by Holliday [53]. Presently, the term refers to the xenobiotic interactions of the cells, which in turn leads to alteration in the epigenomic profile of the cells. This may include alteration in the DNA methylation, histone post translational modifications and miRNA alterations. Arsenic exposure exhibits global DNA hypomethylation [14, 54]. Long interspersed nuclear element-1 (LINE-1) hypomethylation have been found positively associated with increase in arsenic-induced bladder cancer in women, in New Hampshire, USA [55]. Since SAM is an indigenous product of the cell, it's depletion by arsenic metabolism have been attributed to such epigenetic alterations. As mentioned earlier some genotypic variants of AS3MT or it's splice variants has preferential tendency of either higher or lower MMA:DMA ratio [28, 56, 57]. Contemporary study has evaluated the possible association of hypomethylated blood DNA with increase in arsenic-induced skin lesions [58]. In humans, arsenic-induced epigenetic alterations is believed to be a primary contender for it's toxicity whereby both hypermethylated as well as hypomethylated promoters of tumor-suppressor as well as DNA repair genes have been reported from study population located in West Bengal [59, 60].
The involvement of differential methylation potential of AS3MT genotypic transcript variants warrants for further association studies to look into SNP of several other such epigenetically significant enzymes like DNMT3A (DNA methyltransferase 3A) at 448A > G has been associated with gastric cancer [61]; the homozygous variant of G/G at 201A > G of DNMT1 having a lower risk of developing breast cancer [62]. Although these two studies are not in conjunction to arsenic; the DNMT-class of enzymes are important determinants of the genomic methylation in all cells. When analyzed in Argentina, the arsenic exposed study population showed an association of DNMT1A SNP (rs16999593) with lowering in DMA% [63]. Thus, when we are considering the gene and environment interactions as in case of arsenic exposure, such genotypic parameters should provide prognostic information about the fate of toxic outcomes in humans. Such seeded variability in methylation pattern also increases the probability to fall within the niche of epimutagenic events, whose variability can bring forth different degrees of diseased outcomes in arsenic exposed individuals [64].
Conclusion
Arsenic toxicity provides a spectrum of pathophysiological outcomes in humans. Since there is a prominent interaction of this xenobiotic factor with the genes, the genotypic features have been considered vividly to understand the fate of toxic outcomes. The genetic make-up of an individual is hereditary. Hence in West Bengal as well as in other parts of the world, the arsenic exposed population possess a varied degree of cytogenetic damage as well as other clinical symptoms like peripheral neuropathy, respiratory disorders, etc. Taking studies in West Bengal as a comprehensive paradigm of arsenic toxicity, we propose that the genotype of an individual provides the signature of toxic fate upon arsenic exposure in individuals.
Declarations
Acknowledgements
The authors would like to acknowledge Indian Council of Medical Research (ICMR), India for providing SRF to S.P. The authors are thankful to CSIR for financial support for the work (Emeritus Project 21(0885)/12/EMR-II to A.K.G).
Open AccessThis article is distributed under the terms of the Creative Commons Attribution 4.0 International License (http://creativecommons.org/licenses/by/4.0/), which permits unrestricted use, distribution, and reproduction in any medium, provided you give appropriate credit to the original author(s) and the source, provide a link to the Creative Commons license, and indicate if changes were made. The Creative Commons Public Domain Dedication waiver (http://creativecommons.org/publicdomain/zero/1.0/) applies to the data made available in this article, unless otherwise stated.
Authors' Affiliations
(1)
Molecular and Human Genetics Division, CSIR-Indian Institute of Chemical Biology, Kolkata, India